Many Happy Returns
These days I am thinking of the petrified girl. That one that saw her sister embarking to the Empire of a Particular Ratio on a commercial vessel, with the required documents of an unholy matrimony. That one that might have paid attention to Makriyannis' feverish oration "for these we fight as well" (for the curved stones) during the 1820s. After 2500 years,
they transfered her
from the Rock of Acropolis to the nearby New Museum of Acropolis, the one that will be soon having restaurants with a balcony, spicy ticket prices and pale Le-Corbusier-imitating aesthetics. So the group of the girls hopefully will be protected from rain, snow, wind and sun, pollution and the noise of a 5 millions city. They were led, even if late, to the salon, these noble street girls, that saw the growth, the decline, the shrinking, the growth, the pompous baroque of history.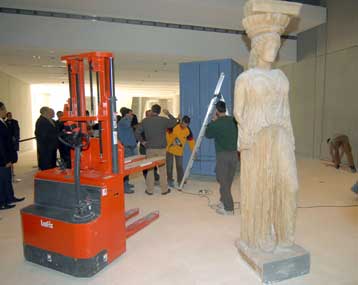 Merry Christmas Heathen Beauty.